Donate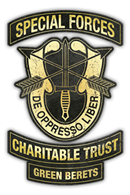 The Special Forces Charitable Trust (SFCT), a 501c3 nonprofit organization, and is assisting the MSG Gary Gordon MOH Memorial Committee. The SFCT is accepting donations on behalf of the committee. All gifts are tax-deducible and will be acknowledged. Any additional funds after the Monument is dedicated will go to future Special Forces Families in need, in honor of MSG Gary Gordon.
The button below will take you to the SFCT donation page. On the donation page, please select the Gary Gordon MOH Memorial from the dropdown menu. Thank you.
Donate
For more information please visit specialforcescharitabletrust.org
or call 1-860-767-1510.